Steven Grives is quite the theatre performer in Australia as well as the U.K. According to a fellow Beastmaster listsib (thanks Pez!), in 1999 Steven appeared in Sophocles' "Antigone" playing King Creon, then as Sebastian in Shakespeare's "The Tempest", all with the Queensland Theatre Company. This year he has played Jaques in Shakespeare's "As You Like It" for Harvest Rain Theatre Company. In addition, he directed a play entitled "Smelling a Rat", written by Mike Leigh, in March of 2000 at the Woodward Theatre, Queensland University of Technology, Academy of the Arts.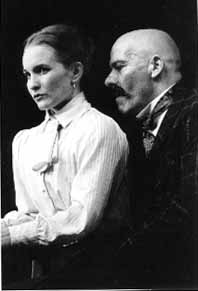 Steven has just finished a performance in the QTC's production of George Bernard Shaw's "Mrs. Warren's Profession." Check out this link for more information.

Read some of Steven's theatre reviews...........
| | |
| --- | --- |
| | |
| | |
| | |
| | |
Read a transcript of The Postmodern Grand Narrative as part of Encounter's Century series, a broadcast of Radio National, the Australian Broadcasting Corporation's national radio network of ideas. All readings in the show were from Don DeLillo's 1984 novel, White Noise, published by Viking Penguin. And the performers were Paul Denny, Steven Grives, Barbara Lowing, Danny Murphy, Melissa MacMahon and Melissa Western.

Steven recently won a "Goldie" award from the Queensland Radio Time Club for "Best Community Service Commercial - Agency". Congratulations to Steven!

Listen to a demo of Steven's voice at the Digital Recording Studios web site of local Brisbane "voice over" artists. It's pretty neat! Very smooth..